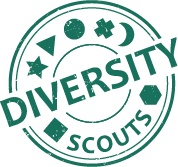 The Office for Gender & Diversity has been offering the Diversity Scouts project since the winter semester 2017. These are student contact persons who help students in various life situations to find suitable contact persons and counselling facilities at FAU to clarify their questions and problems. On the one hand, this concerns the central diversity categories, such as social origin, age, health impairments, care tasks, etc., but also a wide range of other questions about studying, such as questions about scholarships, networking opportunities or career planning. The Diversity Scouts offer referral advice both by e-mail and during personal consultation hours.
Your current Diversity Scouts at the Faculty of Science are Helia Ghasemi, Nicolai Krapohl and Lasvini Suganthan.
Information about current events can be found on their Facebook page and information about the project itself on their website.